It's been a year since we launched the everyday millionaire movement.
We're a group of people who don't make excuses—we make progress. We overcome every obstacle that stands in our way because we know that our destiny lies in our own hands. Building wealth won't happen overnight. It takes sacrifice, but it's worth it.
The everyday millionaire movement is about YOU. It's about the work you've put in. Whether you're just starting out on your journey toward becoming an everyday millionaire or you're building wealth on Baby Step 7, I want you to know that it's not about your current status. It's about the progress you make every day.
You're focused and not finished.
And I'm so proud of each one of you!
I talked to dozens of you throughout 2019. There are so many stories that inspire me, and I wish we could write down every single one of them! For now, here are three stories from people on their everyday millionaire journey.
Christy Is Fighting Her Way to Everyday Millionaire Status
Earlier this year, Christy emailed my show saying that she was pumped about how she's taking control of her money and getting out of debt. She's 43 years old, lives in Arizona, and works as an engineer.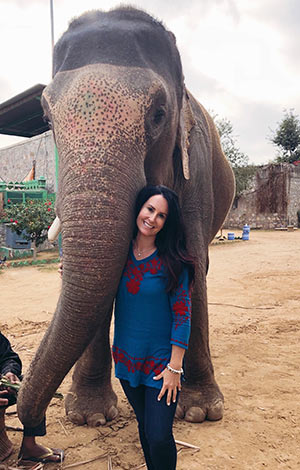 How did you get started on your journey toward becoming an everyday millionaire?
I started listening to the podcast this March [2019]. I walk my dog every day and listen to the show. I've always done well for myself in my career. But at that time, I had $43,000 in debt! I was wondering, What am I doing? What is my problem? These people [calling into the show] are getting out of debt and making less money than me. I realized I needed a behavior change.
What kind of debt did you have?
I bought a home and decided to remodel it. My brother is a builder, and I wanted to have his help with it. To make it all happen at once, I took out loans to pay for it. I even took out a little on my 401(k).
So, how much debt have you paid off?
I've paid off over half of my debt since March! I've had some medical things come up to pay for—some things that I didn't plan on—but even with all of that I'm still able to pay down the debt.
It's not easy, but the progress is good. I know that I never want to be in debt again, and I'm setting myself up to never be there again.

What sacrifices have you made in order to pay off debt?
They're overall behavior changes in little areas that are adding up. I've started paying attention to how much I'm spending on food. I've cut back on going out to restaurants. I love to cook and I'm really into wine, but I've cut back on those things. I haven't bought clothes in a long time.
I also negotiated a lower rate for my car and homeowner's insurance. I told them it shouldn't be this high, and they lowered my rates! I also decided to keep driving my paid-for car instead of getting a new one.
Speaking of behavior changes, how have you changed your behaviors since learning about money?
It starts with budgeting. Look at yourself in the mirror and ask, Where do I spend my money? One month I overspent by $2,000. I was traveling. I was like, what in the world? It was a realization that I've got to stop. This is not okay.
I really value fitness, and I had to ask myself, Why is my financial fitness so bad, but my physical fitness is so good? If you're trying to hit a fitness goal, you have to get out and train. It's the same with money. You have to budget your money just like you track your food.
Have you always believed that you would be a millionaire?
I always assumed I would be a millionaire by putting money in my 401(k). But I've learned that's not necessarily enough. You have to save, and not spend more than you make, and put extra away. Defining those long-term goals is so important.
What do you enjoy now that you're experiencing financial peace?
Now, in my budget, I'm always trying to find room to give money. I'm sharing my journey with people that matter. With what I'm doing and the resources I get from you guys—I try to pass it on in some way. Soon, more toward the back half of this year, I think I could be a coach for people. That's something I'd like to do to serve.
Who Buys a House With Cash? Frank Does.
Frank is an everyday superman, people. No—he doesn't wear a cape, but he accomplished something that most people believe is impossible. He was laser-focused on his dream: to retire at age 55 and pay cash for a house.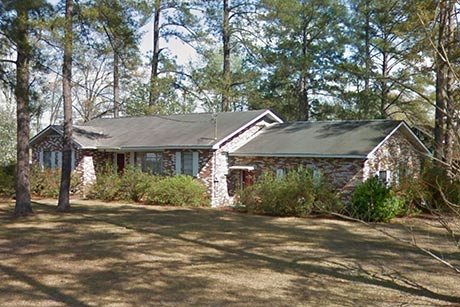 How in the world did you pay cash for a house?
A few years ago, I started listening to Chris Hogan's show. He helped me get motivated. I sold some land in Wyoming in 2016 and paid off my previous house in Georgia in May of 2017. All of that helped me purchase my next home with cash. I didn't want to carry a mortgage into retirement. The real estate agent started giggling when I told her that it was going to be an all-cash transaction. I looked at her and said, "Does it look like I'm joking?" Then she stopped laughing. She had been doing real estate for 20 years and had only seen that a couple times before.
What sacrifices did you have to make to reach your goals?
I stayed extremely disciplined because I knew my goal was to retire at age 55 and purchase a home with cash. So, I didn't spend money on everyday expenditures like the latest and greatest tech. I never bought a new vehicle. I shopped at consignment stores. I didn't deviate from the budget: beans and rice, rice and beans. At times, friends would give me a ribbing. They would ask, "Why are you doing this?" And I explained to them my dream. I told them, "I'm not the brightest bulb in the box. If I can do it, surely you can!"
What are you doing now to enjoy retirement?
My entire life, I never spent more than $300 on a vacation. But now, I'm taking a trip every few months. I visited Ramsey Solutions in August. I saw Chris's show live, and I met him between the taping of the two shows. We took some pictures, and I got an autographed copy of Everyday Millionaires.
I've gone to baseball games in Tampa Bay. I'm a big fan of the Yankees, so hopefully a trip to the Bronx is in the near future. I'll also go to Washington D.C. to do sightseeing.
Now, I'm getting caught up on life, enjoying my home gym, and spending time with my friends. I keep it simple.

What advice or encouragement can you share with people who are on their own journey toward becoming everyday millionaires?
"Don't despise small beginnings" is a big piece of advice I want to give people. You don't have to go from Baby Step 1 to Baby Step 7 all at once. Have good support. Be consistent. Know that you're not by yourself. Also, have a goal! Have dreams. Don't be aimlessly wandering around.
The lowest income I ever made was $16,000 in 1980, and my highest was $68,000 in 2018. This can be done. You don't need to go out there and make a six-digit salary. It's more important to have a mindset and a plan. Go out there and take action.
Aaron & Deb: Giving Is the Best Part of Being an Everyday Millionaire
Aaron and Deb live in Iowa with their four children. Aaron works as a program director for an aerospace company, and Deb was able to retire at age 46! Now, they are loving life on Baby Step 7—building wealth and giving it away. They're having more fun than Santa on Christmas morning.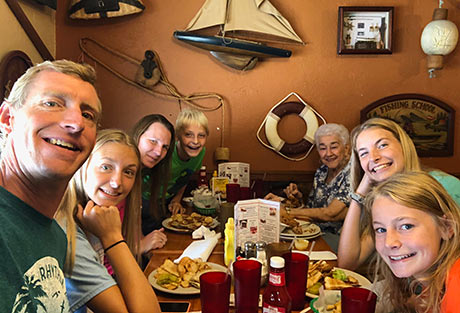 Tell us about your journey toward becoming everyday millionaires. How did you get here?
We both grew up in families that had very little money. We're both first-generation college grads, and we've been very blessed to find our way into good careers in good companies. We're very "everyday."
We had some student loan and credit card debt, but we weren't too serious about getting everything together. My wife kept telling me about Dave Ramsey, but I didn't pay very much attention until our SmartVestor Pro told me, "You need to listen to your wife. Pay off your house." Then we got serious.
We walked back into his office 18 months later and told him, "We're done!"
How did your life change after you paid off your house?
Retirement [for Deb] was part of our financial goal, and part of our why for getting through Baby Step 6. Our kids were busy, and we were having to make a lot of choices between work and their activities. We were lamenting the fact that we couldn't get involved in the community leadership roles and couldn't help out because we just didn't have the time. We decided we needed to get rid of the mortgage in order to have more time.
How did you build wealth?
Our wealth accumulation has happened through our 401(k) accounts. We always got the company match, then contributed well beyond that. We never spent our raise. We put that back into the 401(k) or paying down our debts. We're pretty boring and standard. We buy cars and run them until the wheels fall off. We were intentional. Instead of eating out three times a week, I cut back to only eating out once a week.
What's the best part of being an everyday millionaire?
Once you reach millionaire status, you're able to focus a lot more on giving. Those opportunities present themselves more obviously—maybe because you're not as clouded by everything else you're working on. You couldn't pay attention to them before.

So, tell us about the fun things you're doing to give!
We do a large Christmas light show every year at our home. It's an animated synchronized light show with music. As people drive into the cul-de-sac to see the show, they can donate money if they want to. The main intent is to spread some Christmas cheer for the holiday. We've been able to raise well over $10,000 a year on average. Our neighbors get to choose the charity that the money goes to every year. They have to deal with the driveways being blocked during Christmastime, so we let them pick!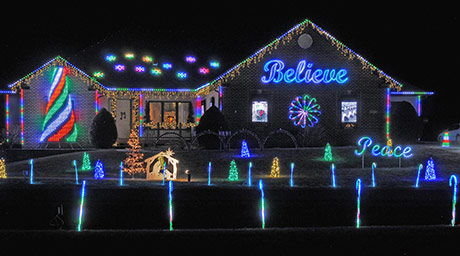 We look for more of those larger impact opportunities to give—the ones that don't come along all the time. We got a request from someone on our school board to provide winter coats for some of the kids who don't have coats. We wanted to give them something they're proud of and can enjoy, not an old hand-me-down. It's good to know that when the kids are walking to their school, they're warm.
What are your dreams for the future?
We've got a ways to go. We've become passionate about financial coaching in this area. I [Aaron] would love to coach people from where they are to a spot where they can be financially successful. The dream goal is to have an office space where we can meet with people and coach them on the Baby Steps.
It's Your Turn
Is the American dream alive? Yes. Is it available? You better believe it! VIPs, I hope you're feeling as pumped as I am. These stories are a reminder that anyone can build wealth. If these everyday millionaires did it, what's stopping you?
So how do you stack up? You can use my Net Worth Calculator to calculate your net worth and gain insight into how many assets you really have.
I know that we'll all continue to work hard in 2020. Let's make this the year that we chase down even more progress!